Please note; The Action Pistol Range is a restricted range. In order to use the range you must be a certified Safety Officer in one of the action pistol sports or be under the supervision of a Safety Officer.
The Action Pistol Bay is multi-purposed:
Provide a place to practice for NWCSA members who compete in sanctioned Action Pistol Matches (USPSA, IDPA, ICORE and NRA Action Pistol)
Host matches per USPSA, IDPA, ICORE, and NRA Action Pistol organizations
Conduct supervised practice sessions for NWCSA shooters for the purpose of improving skills and introducing new shooters to the sport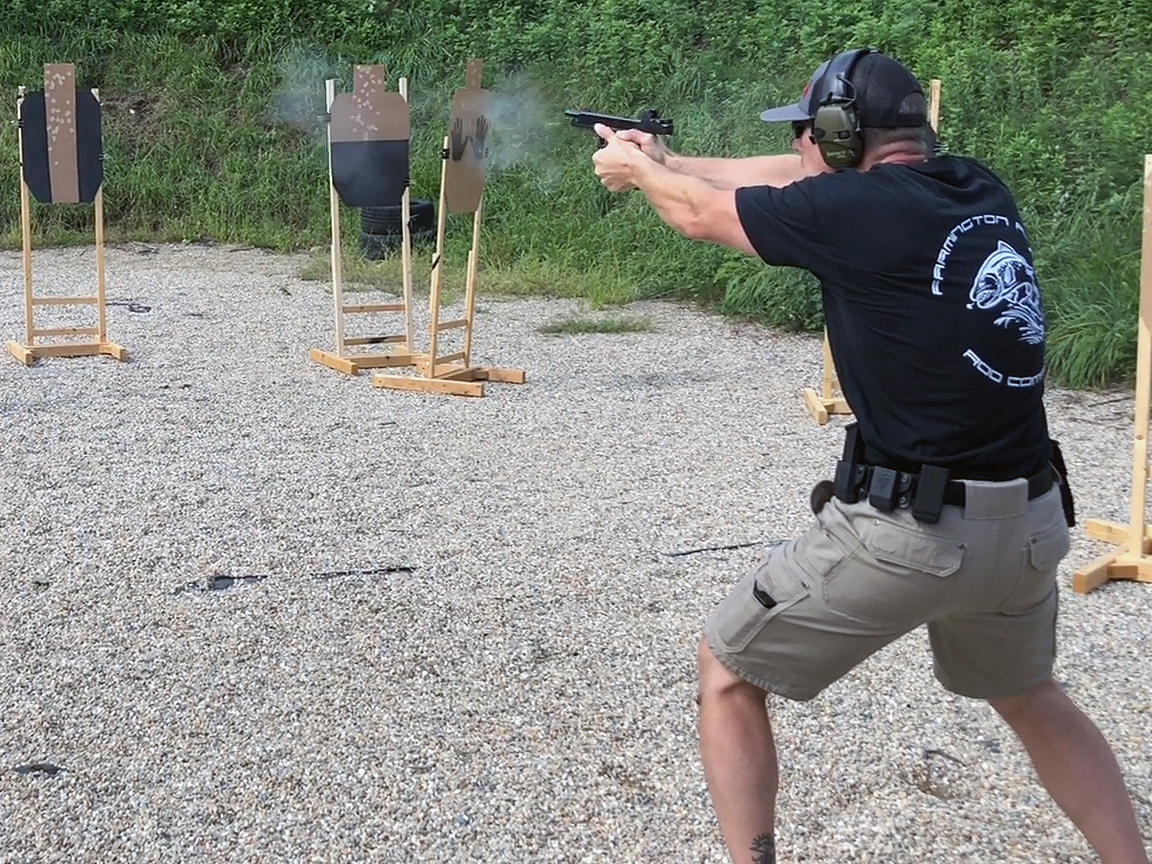 IDPA Matches at NWCSA
The International Defensive Pistol Association (IDPA) is the governing body of a shooting sport that simulates self-defense scenarios and real life encounters. It was founded in 1996 as a response to the desires of shooters worldwide. The organization now boasts a membership of more than 22,000, including members in 50 foreign countries. NWCSA hosts IDPA matches during the spring, summer and fall months.
IDPA uses practical equipment with full charge service ammunition to solve simulated real world self-defense scenarios. The main goal is to test the skill and ability of an individual.
IDPA offers an exciting forum for practical shooters in which practical equipment, techniques, and courses of fire are mandated. Prior to IDPA, there was no place to compete with common service pistols. There were no shooting sports where your concealed carry holster could also be your match holster without handicap. When you come to an IDPA match, you can not only use your duty/CCW equipment, you can be completely competitive with it. Other shooting sports have become equipment races; IDPA will not.
If you are interested in using truly practical pistols to solve challenging and exciting defensive shooting problems, then IDPA is the sport for you!
Do I need to be an IDPA member and know the rules?
Not to start. You can shoot in 3 matches before being required to join IDPA. IDPA membership cost is $40/year. Visit IDPA website for more info.
Why should I attend?
You should attend if you are curious about action pistol sports and want to try it in a low pressure environment. Or perhaps you are competitor looking for a Saturday match. Either way it is a lot of fun.
Who can attend?
Matches are open to the shooting public.
What is the cost?
NWCSA member or non-member – $20
When and where are the matches?
Matches are held in the action pistol pits (on top of hill by trap range) on the first and third Saturday of the month from 9AM to 5PM and run from April to October. See the club calendar or PractiScore for actual dates.
What are the prerequisites to shooting a match?
It is very important be able to safely draw and handle the firearm you will be using. This is not a 'learn how to shoot' course. You must already have put in the hours at the range and are now ready to take it to the next level. Also, if you have never shot an action pistol type event we require you attend one of our orientation workshops. This free, 1-2 hour orientation will familiarize you with range protocols, equipment, safety considerations, IDPA rules, etc. Anyone not meeting this criterion will not be allowed to shoot.
What equipment do I need?
Here's a list of the essentials:
Center fire pistol or revolver. 9mm or 38 special minimum, no magnum calibers.
Holster that covers the trigger guard ‐ this is a MUST.
The holster may be inside or outside the waistband. Serpa holsters are not recommended and Apendix draw holsters are not allowed.
At least three magazines or speed loaders, preferably 4.
100 rounds of ammunition minimum.
Concealment garment ‐ a shirt or jacket that completely covers your holster is fine.
Eye and ear protection.
A commitment to SAFE SHOOTING and a GOOD ATTITUDE
I'm in, now what?
Matches are published on PractiScore.com. Go to Practiscore and search Matches for NWCSA, You will need to register prior to the match date.
If you need to attend an orientation or have any questions please contact: [email protected]