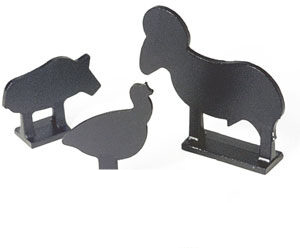 .22 Rimfire Silhouette Match
RIMFIRE HANDGUN OR RIFLE SILHOUETTE MATCH
Only caliber .22 LR – revolver, single-shot, or semi-automatic pistol or rifle. Scopes and red dot sights are allowed.
Ammunition: Minimum 40 rds.
Competition: All shooting is done offhand (standing).
The object of the competition is to knock over as many targets as they can, using only one shot per target, shooting in the prescribed sequence, within the prescribed time of 2-1/2 minutes for each bank of 5 animal silhouettes. The shooter is given 2-1/2 minutes to engage a bank of five silhouettes (five chickens, pigs, turkeys, and rams, one shot each, left to right).
Scoring is simple – if your shot knocks the target completely down, it's a hit; anything else is a miss. When the shooter has finished the first string of five targets, there is a cease-fire, they are reset and a second string of five targets (of the same animal) is engaged.
A match consists of ten chicken targets at 15 yds, ten pig targets at 25 yds, ten turkey targets at 35 yds, and ten ram (or sheep) targets at 45 yds. There is a maximum score of 40 points.