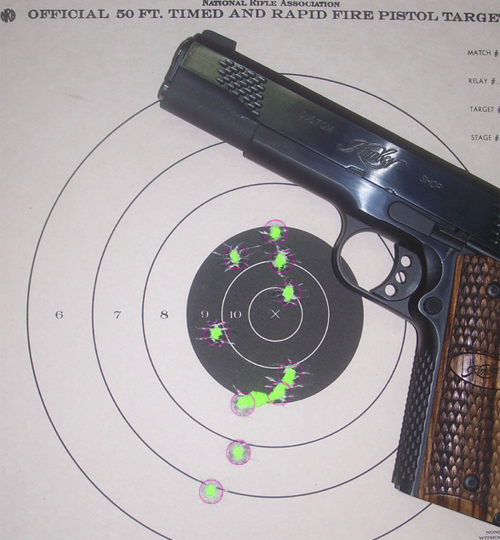 Bullseye Handgun & Silhouette Match
New shooters are encouraged to participate and will be tutored in basics, and the more experienced shooters are always willing to coach new shooters.
Bullseye and Silhouette matches will be held beginning with Bullseye at 6PM sharp, followed up by the silhouette match at about 6:45PM. Target setters are welcome and will get work time credit.
REVOLVER & SEMI-AUTO PISTOL BULLSEYE MATCH
Any caliber revolver or semi auto pistol, .22 LR or centerfire. Open sights and red dot sights are allowed.
Ammunition: 30 rounds minimum.
Competition: Shooting is at 25 yds in 3 stages: slow fire, 10 rounds in 10 minutes, reload at will. Timed Fire, 10 rounds in two 5 round strings, reload on command only, 20 seconds each string. Rapid Fire 10 rounds in two 5 round strings, reload on command only, 10 seconds each string.
The 3 target scores are added for the total, with a maximum score of 300 points.
RIMFIRE HANDGUN OR RIFLE SILHOUETTE MATCH
Only caliber .22 LR – revolver, single-shot, or semi-automatic pistol or rifle. Scopes and red dot sights are allowed.
Ammunition: Minimum 40 rds.
All shooting is done offhand (standing).
The object of the competition is to knock over as many targets as they can, using only one shot per target, shooting in the prescribed sequence, within the prescribed time of 2-1/2 minutes for each bank of 5 animal silhouettes.
A match consists of ten chicken targets at 15 yds, ten pig targets at 25 yds, ten turkey targets at 35 yds, and ten ram (or sheep) targets at 45 yds.
The shooter is given 2-1/2 minutes to engage a bank of five silhouettes (one shot each, left to right).
Scoring is simple – if your shot knocks the target completely down, it's a hit; anything else is a miss.
When the shooter has finished the first string of five targets, there is a cease-fire, they are reset and a second string of five targets (of the same animal) is engaged.
A perfect  score is 40 points (10 targets x 4 banks).